Information Update
Be sure to follow our website, social media channels and SchoolZone for news and updates about the 2022-23 school year and information about the 2023-24 school year.
We were so excited to welcome our students to school this fall. Our second year of teaching, learning and leading offers us endless opportunities to grow and better the world around us.
Dr. Anne Anderson Open House
We welcome all families to join us for the Dr. Anne Anderson High School Open House on Thursday, February 23 from 6:00-8:00 pm. This will be an in person event that includes our Advanced Placement presentations, school tours, opportunities to meet our administration and faculty, and so much more. Throughout the evening, you will be able to connect with our students and teachers as we host a number of activities and presentations to help you make an informed decision about the school you will attend and the courses you may take in the year ahead. We can't wait to meet you!
Our Approach to Learning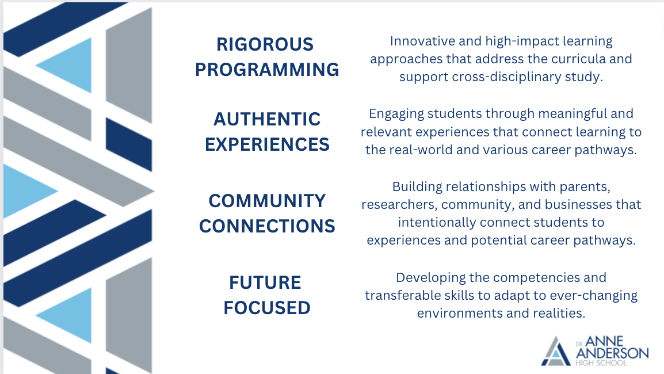 Do you want to know more about Dr. Anne Anderson High School?