Athletics
HOME OF THE WOLVES
Stealthy. Wise. Protector.
After conducting student surveys, researching local wildlife, and consulting with others in our community, we are proud to say that our school will be home to the Dr. Anne Anderson Wolves.
Alberta is home to over 7,000 gray wolves known for their intelligence, ferocity, and elegance. To many on Treaty 6 Territory, wolves are known as symbols of loyalty, family and friendship. Most notably, we associate wolves with the social packs in which they roam and the ways in which they rely on one another for support. At Dr. Anne Anderson High School, we will also take care of each other as we support the development of leaders who are getting ready to change the world.
Our logo accentuates the qualities we have ingrained in our school focal point - the large tipi adorning our Agora space. The wolf's prominent triangular shape reminds us of the importance of strength and the strong foundation we will build to take for ourselves and others. The alert ears symbolize the respect we give to others by truly listening to and learning from the stories shared with us. The steely gaze of the light blue eyes are akin to the ways we look toward the future.
Let's hear you howl!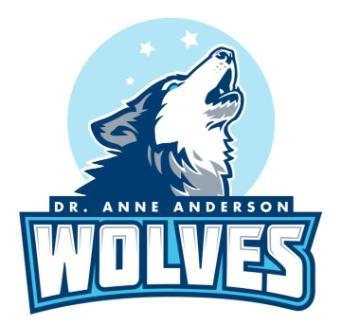 DAAHS ATHLETICS
Dr. Anne Anderson High School is already building a legacy of success in athletics.
Our athletics programming provides an opportunity for student athletes to develop their individual athletic ability and teamwork while emphasizing the Dr. Anne Anderson character virtues of respect, responsibility, fairness and integrity.
Student athletes can be a part of a variety of teams and athletic programs offered at our school:
basketball
volleyball
cross-country
curling
handball
rugby
outdoor/indoor soccer
track and field
golf
flag football
badminton
swim
Come cheer on our teams! Check out team schedules at Metro Athletics.
LIVE STREAMING NOW AVAILABLE!
A live video link of DAAHS games will be posted on SchoolZone. Parents and students will be able to access the live video link by logging in to the site. Please note that once the live video link has been posted, Edmonton Public Schools cannot control or prevent the further distribution or use of these videos, images or other personal information by those who access the information.
We request that parents not share or record or share the link and refrain from posting images on social media. However, if there are videos or pictures taken by attendees (virtual or in-person) at tournaments or games, Dr. Anne Anderson High School cannot control how these videos may be shared or used.
Internal recorded videos taken by the school at various events or games may be shared with the students in order to provide feedback to enhance skill development.
If you have any questions, please contact Dr. Anne Anderson High School administration at 587-489-4738.
COACHING SUPPORT AND OPPORTUNITIES
To help our school build a strong athletics program and promote school spirit, we continue to value the support from our parents/guardians and community members. We know that there is a vast coaching expertise in the school and greater community and we hope to have many volunteer coaches assist us in making our athletics program a success.
Interested in helping out at Dr. Anne Anderson this year? If so, please contact us at anneanderson@epsb.ca. Please note the Requirements for Registration and Records Checks for our volunteer coaches. Volunteers who work with our athletic teams are required to complete the following forms:
FITNESS CENTRE
We are excited about our new athletic and wellness amenities. As athletic events are not just restricted to those participating on teams, we are excited to invite parents, other students, and community members the opportunity to be involved and to use the Dr. Anne Anderson Community Centre.
Students will have ongoing access to our new fitness facility outside of instructional programming. The fitness centre at Dr. Anne Anderson High School consists of state of the art equipment that has been hand chosen to maximize the benefit to all students, as well as our student-athletes, in order to optimize wellness and athletic development.
For more information on the Dr. Anne Anderson Community Centre, please visit our DAACC page.